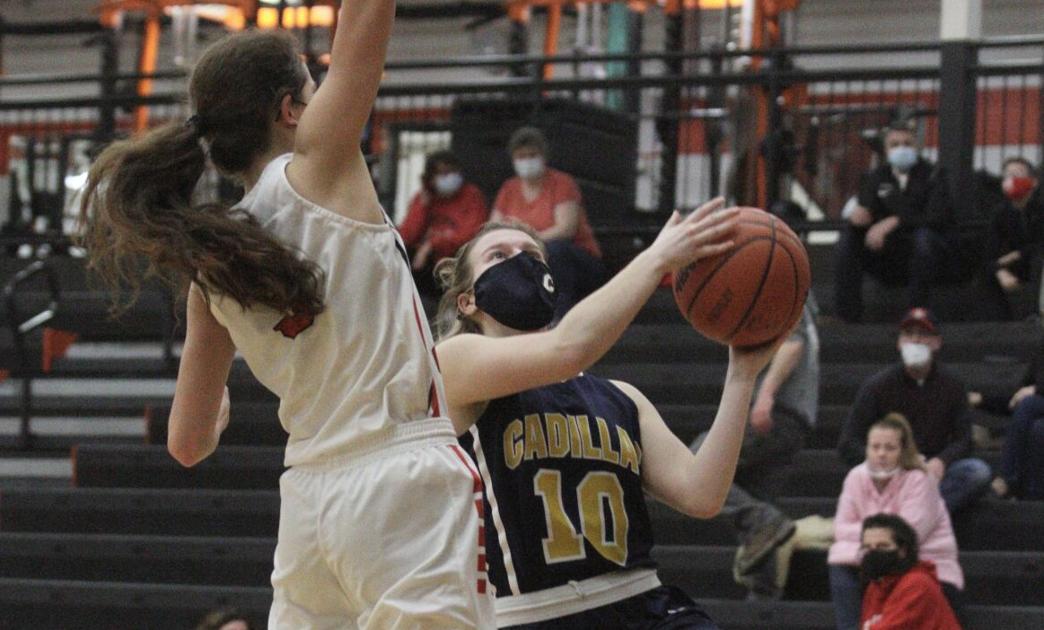 Vikings dominates Benzie 46-25 in defensive chess game | Sports
KINGSLEY – The shutdown of Ellen Bretzke from Benzie Central is a huge challenge that work teams have faced over the past four years.
She's at the top of the scouting report for every opponent and when the Huskies met Cadillac in the Division 2 district semifinals at Kingsley on Wednesday night, the Vikings showed they were ready.
Cadillac used stifling doubles teams and pesky hands to take out the Huskies' biggest goal threat and advance to the District Finals with a 46-25 victory.
"We definitely knew about her and I give my kids credit for knocking out a player like Bretzke," Cadillac head coach Kip Damgard said. "It's a big challenge. "
The Vikings managed to keep Bretzke, who is averaging 17.7 points per game, to just six points, all of which came in the second half. The Huskies have introduced a new defensive strategy with their own scout report. Benzie came out in zonal defense and did a good job limiting Cadillac's shots in the first half, but Molly Anderson wouldn't take a no for an answer.
Anderson amassed nine points in the first quarter, then scored two 3-pointers in the second to score 15 of Cadillac's 21 points in the first half.
"We started off slow because we weren't expecting them to be in the zone," Anderson said. "Once we got down and moved the ball, we reversed our shots and got some interceptions in defense to increase the score. "
As Anderson led the Cadillac offense, Gloria Stepanovich found some rebounds and open shots to keep the Huskies close. Stepanovich scored 10 of 12 points for the Huskies in the first half, before losing 21-12.
The Vikings walked into the locker room and didn't like having only a nine-point lead. Damgard gave them the choice.
"In the locker room the coach gave us a reality check and said it was win or come home," said Anderson. "I think we have to remember that in the first half on Friday, because it looked realistic in the locker room; we just had to go.
Cadillac got off to a good start in the second half when Emma McTaggart and Macy Brown joined in to score and extended the third quarter lead to 17 points.
"They did a good job with their defense and they slowed us down right now and we felt we struggled in the first half," said Damgard. "I'm pretty proud of the way the kids reacted to what we talked about at halftime."
The Huskies only managed five points in the fourth quarter as the Vikings began to break through the zonal defense. Cadillac started to rain at 3 points and advanced to the 46-25 final.
"Athletically we don't face them so we had to do something different," said Huskies head coach Sarah Ross. "We haven't played in the zone all year … so that's what you have to do in the playoffs.
"I thought we were playing really well in defense but Cadillac is a great team, I mean it takes a lot to stop them and you have to be on your best game. I have the impression that defensively we were close and offensively we just weren't in our A games. "
Anderson led all scorers with 20 points and Stepanovich scored 14 for Benzie. Stepanovich added eight rebounds and two blocks and Bretzke added 11 rebounds and three blocks.
Macy Brown scored all six points in a short stretch that helped spark the Vikings in the second half. Olivia Meyer scored nine out of three 3-pointers and Madilyn Drabik scored seven.
The Vikings (13-1) meet Ludington in Friday's district final at Kingsley. Ludington beat Manistee early in Wednesday's game 50-25, but fell to Cadillac 42-37 earlier this season.
"We have to show up like this in the first quarter," said Damgard. "We don't want to wait for the third quarter. Ludington is good, we know what they're doing, we've played them once, we know we've got to be ready to play from tip to end.
Benzie Central ends the season at 10-8 and only loses Bretzke on graduation. Ross said she's hoping someone can take on the role of the chief executive and take the Huskies into the future.
"They can see the difference in a player who does it on his own and who doesn't," said Ross. "And that's really one way to improve your program. I think these girls really have something to admire.
Follow Jake on Twitter @JakeAtnip