The FIDE Online Chess Olympiad has started
Huge turnout
FIDE press release
The first day of the FIDE 2021 Online Olympiad took place today on the online servers of Chess.com. A total of 153 teams from around the world have registered for the event, meaning more than 1,000 players will participate in the next three weeks.
The tournament is structured in two stages: the "divisions stage", in which the teams are ranked in each round of the round robin, based on their previous results at the OTB Batumi Chess Olympics in 2018 and the Online Olympics. from last year.
The winners of each division gradually move on to the next stage, where they are joined by the strongest teams, until they eventually reach the first division, where the best teams in the world are ranked. The top qualifiers will then face off in a knockout play-off to decide who will succeed last year's co-winners India and Russia. The following graphic summarizes the structure of the division step.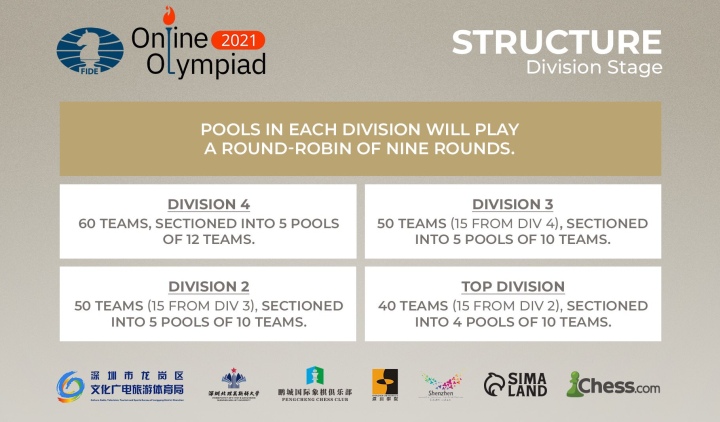 All games are played on the chess.com game server with an increment of 15 minutes + 5 seconds per check time. The team structure is global: each team must be composed of six players, with a minimum of three players and two juniors.
Specifically, each team must include at least one U-20 player, at least two women and at least one U-20 girl – a huge challenge for many small federations. Six reserves and a team captain make up the full roster for each team.
Day one of the event featured the first three rounds of each of the five pools in Division Four (12 team rounds). Most of these teams come from smaller federations and so there are a few flaws to be expected: not only meeting the team criteria is a big challenge, but connection issues should also be taken into account.
Despite everything, the turnout was huge and over 400 official Olympics games were played. The following cool graphic gives a good idea of ​​the international representation of the event.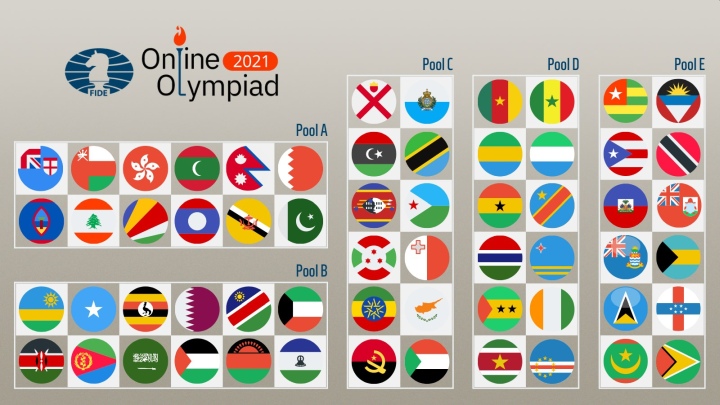 The schedule for this division is as follows: rounds 1-2-3 are already in the books having been played today, while rounds 4-7 will be played tomorrow Saturday 21. The last four rounds (8-11) will be played on Sunday 22. The matches start at 08:00 UTC in Pool A and end at 18:00 UTC in Pool E. The top three teams from each pool as well as the best fourth qualifier will advance to Division Three.
About the tournament
Scheduled from August 20 to September 15, the FIDE 2021 Online Olympiad is a national team event in which all FIDE affiliated federations have the right to participate. Teams are made up of six players, with a minimum of three players and two juniors.
Played online at Chess.com, the event has two main stages: the Divisions stage and the Play-off stage. All games are played with an increment of 15 minutes + 5 seconds per hit time control.
Connections