December Throwback # 5: Up, Up and Checkmate: Jen Vallens on a Sky High cover shoot
[ad_1]
CLO combs its archives to bring readers memories of the past this holiday season. Look for return items throughout December.
December Return # 5: Reindeer aren't the only ones flying this holiday season. Today's flashback takes place behind the scenes at GM Timur Gareyev's skydiving photoshoot for the November 2018 cover of Life in chess. Jennifer Vallens, who organized the shoot, explained how this award-winning cover turned out – and, as you'll see, she even joined the high-flying action..
I have worked with US Open champion Timur Gareyev for the past five years and have organized a lot of interesting activities for him including his appearance on Lion "> Laporte podcast show, UCLA research study, event with the Society of Neuroscience and of course his Blindfold Chess world record event. But I have to admit, the most exciting and rewarding part was coordinating the November 2018 cover for Chess Life.
After Timur won the US Open, I received an email from the publisher of US Chess letting me know that they wanted to do a cover on the US Open and wanted to feature Timur on the cover. They didn't want the cover to be Timur playing chess, but rather one of his adventures. I immediately imagined Timur playing chess while flying in the sky. I contacted SkyDive Elsinore as it is in California and I know Timur had jumped there several times.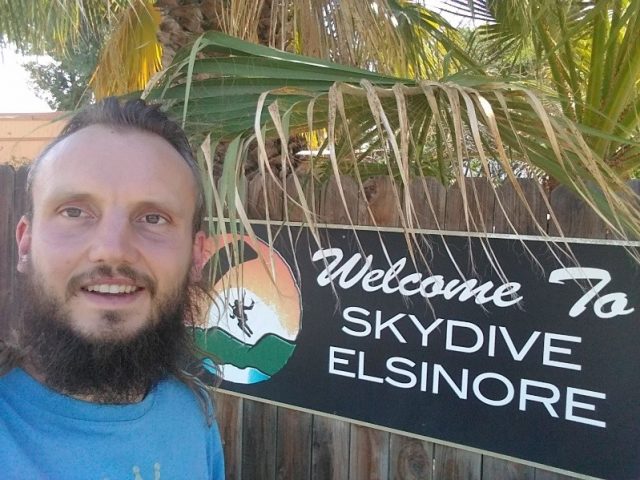 Coincidentally, Timur would be in California for the San Diego Open just weeks after US Chess' initial call. Believe me, this was a fortuitous moment due to Timur's intense international travel schedule. I made a call and inquired about the project and contacted Joe Jennings. Joe Jennings is an Emmy Award-winning aerial stunt coordinator and has produced stunts for many high-profile feature films, including Point Break and Charlie's Angels, as well as countless commercials. You can discover its extraordinary reel:
When I mentioned the project to Joe, it was another fortuitous moment as Joe had just rigged a game of chess for skydiving to use in some photo stock images with other games being played "in the sky".
Joe was excited to work with Timur after visiting his website and learning more about him. Although Joe was used to working with high-profile budgets, he was up to the project for the unique challenge we presented to him. Joe would need to build a chessboard to secure the pieces so they wouldn't fly off. It turned out not to be such an easy feat. After I got a chess position from Timur, I sent Joe 5 chess sets to work. We had to find wooden chessboards small enough to maneuver in the air. The only acceptable sets I could find in the allotted time were wooden travel sets. One day before the shoot, Joe called me to tell me that the sets only had one queen. This presented a problem given the position chosen by Timur with two queens on the chessboard! We had to use queens from the other sets and we only had two boards to work with, which meant Timur would only have two chances to get it right!
Building the chessboard was more complicated than just nailing the chess pieces. Aerodynamic engineering had to be carefully considered in the design of the board. Joe would need the help of SkyDive Elsinore's chief instructor, Romulo Antunes (Rom) to complete the project. When Rom heard about the project, he explained: "It raises the bar a lot. Joe and I have been jumping with board games lately and one of the biggest challenges has been deploying the parachute and continuing to hold the board. You had to get Timur out of the plane, stabilize him by holding the chessboard, let him fly alone with the chessboard, take the blows, take the chessboard from his hands, ALL IN 50 SECONDS. Sign me up"
Timur had around 150 jumps at the time, which Rom says is considered a great jumping experience, but not necessarily enough to fly while holding a solid object. Rom had to assess his flying skills, coach him, and prepare in case he dropped the board in mid-flight. When the day came, I arrived to meet Timur at the drop zone, I was totally blown away by the experience. The people, the place. There is something very spiritual about the skydiving community. There is a bond and a feeling of belonging and everyone I met was friendly and happy. It must be all those good adrenaline hormones pumping through jumpers' veins.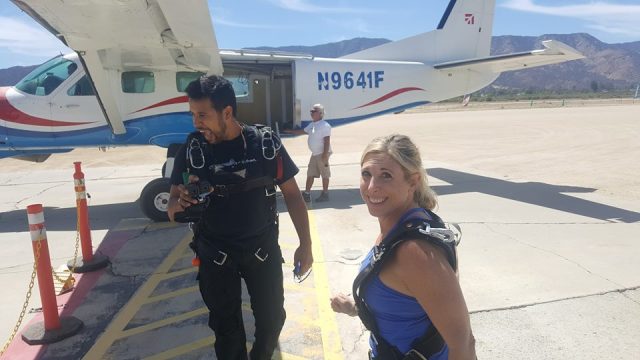 Timur did a practice holding a blank wooden board. The team; Joe and Rom were impressed with Timur's skydiving skills and were confident this project would be a success. However, jumping with the chessboard prop would be more of a wild card. The weight of the board had to be factored in with the wind position and we only had enough boards for a practice run. If the wind caused Timur to tilt the board slightly, it could cause the board to fly out of Timur's hands.
Rom had to find a way to fix this potential problem should the board ever fall into a tailspin. Imagine the danger of a flying plank of wood hitting the ground at such a high speed of 125 mph. There is no liability waiver for death by chess board! Rom came up with the brilliant solution of attaching a cone to the bottom of the board to help direct the wind, and built a small parachute attached to the board and Timur's hand that would be activated in case the board came free. Timur did a few more jumps. But instead of Timur being able to relax that evening, we had to find something for Timur to wear for the photoshoot.
We had imagined something to signify chess or a king and were looking high and low for something to dazzle. It was near Halloween so we started to visit costume stores. But nothing seemed right. We looked at the Flash costume, the Joker, and even a Batman costume, but nothing seemed appropriate. We visited store after store and got discouraged. After 3 hours of shopping, we returned to the car feeling defeated. But I looked up and saw a Tilly's skate shop and suggested we just passed by. It was around 9pm and the store was going to close soon and by chance JACKPOT again. Checkerboard from head to toe! It couldn't be more perfect.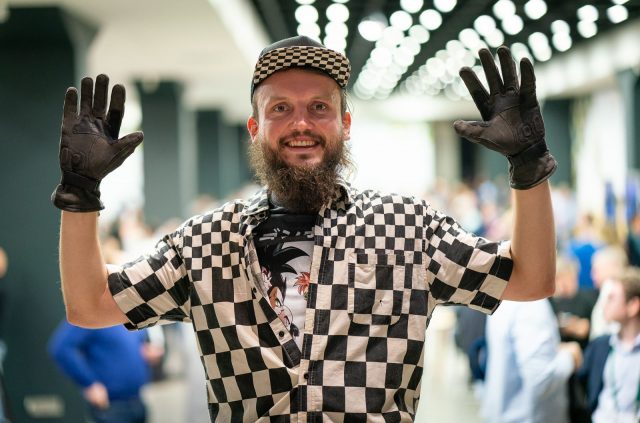 Timur Gareyev in Saint Petersburg at the World Rapid and Blitz, Photo Lennart Ootes
(This outfit, along with the matching hat and shoes, quickly became Timur's new uniform.) The next day we showed up early and felt confident now that we had the blanket outfit and a board with it. an emergency plan. But like Timur, all doubts about Timur's performance were quickly removed as he pulled off a clear jump and managed to hang on to the board for the money shot. Timur had flown hatless at first but we decided to do another jump for fun with the chess hat and matching shoes and it was another successful run. When asked what it was like to parachute with the added challenge of holding a chessboard, Timur explained, "It's a bit like surfing versus swimming. Experienced divers tend to have struggling with the balance of the board.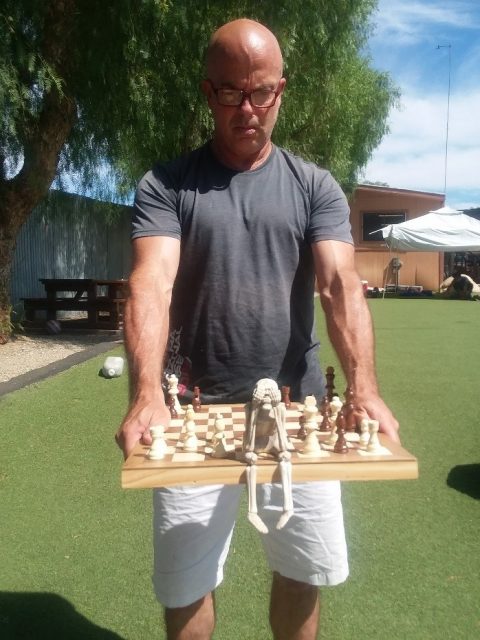 I think I scared Dan Lucas when I sent him the skeleton photo and told him we would use it for the cover
!
As you can see, it is not easy to maneuver an object 13,000 feet in the air when you only have 50 seconds!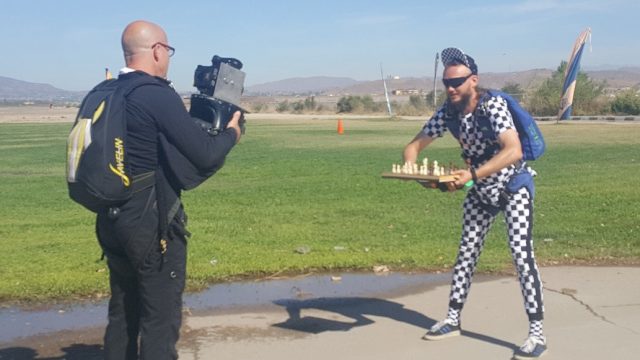 Day 2 – practice the backup shot in case you can't get the silver shot. Fortunately, no photo store is necessary.
Day 2 – I decide to jump. I know I am in good hands. I leave in tandem attached to Rom. We even play and parachute blindfolded! Check out the videos below. Rom's last words, "Mission accomplished !! Timur flew like a boss !! He coped with the mental pressure, held the plummeting board, all the while smiling into Joe's camera. Fantastic teamwork !! We all landed safe and sound and the result is on the cover of Chess Life Magazine. When the shooting is finished, the goof begins.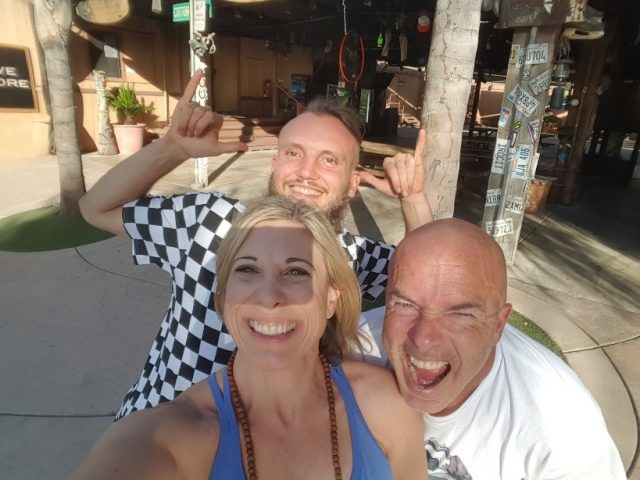 Congratulations to my friend GM Timur Gareyev who never ceases to amaze me! And thanks to Joe and Rom for creating an experience I'll never forget!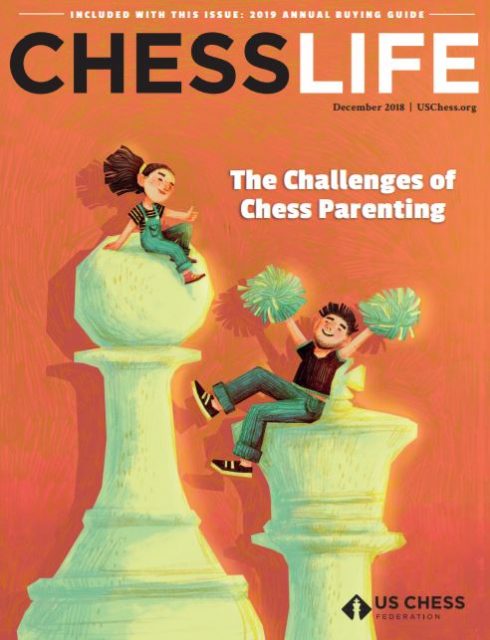 Jen Vallens wrote the cover of the December issue of Chess Life Magazine on the challenges of parenting in chess, and was featured on our Cover Stories podcast. She's also a judge for our Best of CLO contest, a countdown to our best articles of 2018.
[ad_2]