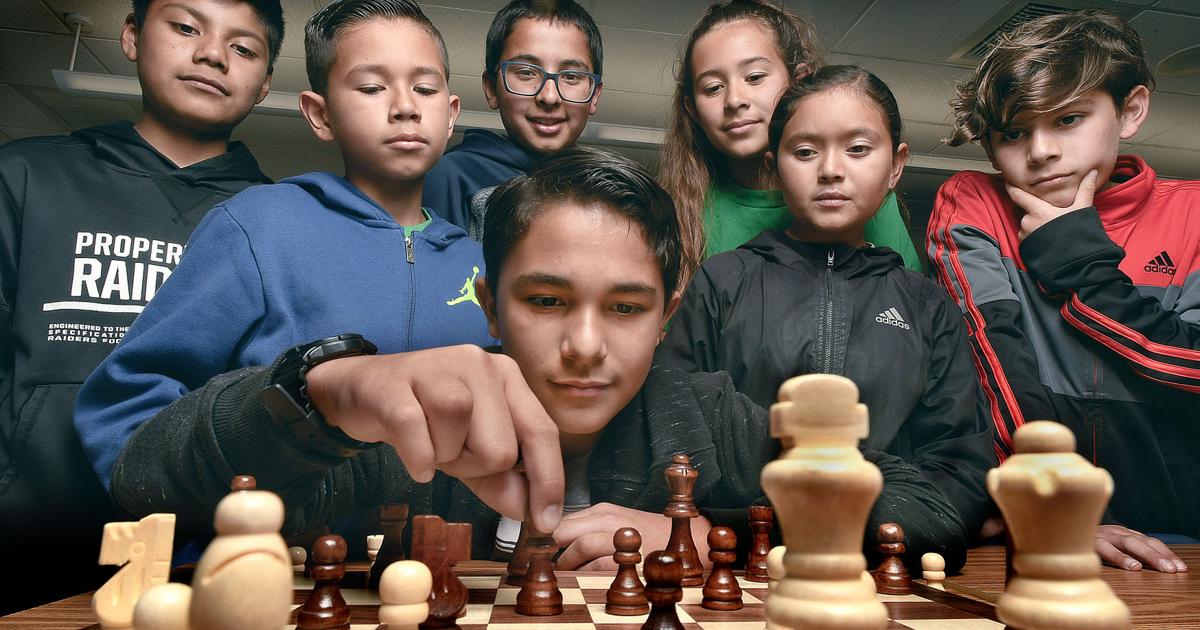 Checkmate: Taylor Elementary Chess Club Brings Home Tournament Trophy | News
Chess is on the rise at Taylor Elementary School, especially after students brought a tournament trophy back to their Santa Maria campus earlier this month.
The school has a growing chess club made up of 30 students in grades four through six who dub themselves the Medieval Players and meet every Monday and Wednesday after school to practice.
Medieval players took first place in the K-8 beginner section of the March Madness tournament on March 9 in San Luis Obispo, competing against public, private and home-schooled students from Santa Barbara in Paso Robles.
Along with winning the team trophy, Taylor had three students among the top 10 individual players – sixth-placed Hugo Soto, third overall; Diego Rodriguez, sixth student, fifth overall; and fourth-year student Sebastian Azusa, ninth overall.
"The more you play it, [the more] it gets interesting," said Hugo, who was involved with the club for a year during which he developed a love for the game. "It makes you think more.
Before the children started moving the queen, rook and pawns as part of an official club, fifth-grade teacher Antonetta Haggard greeted students who started playing chess while they waited for them to return to school. home.
Haggard observed students developing critical thinking skills as they maneuvered their pieces on the board and came up with the idea of ​​forming an after-school club. Manager Jennifer Loftis endorsed the effort and the club was born in 2016.
Now room E28 is filled with students after school on Mondays and Wednesdays occupying each table and moving chess pieces against each other. Each table has two boards and head-to-head matches. One game that Haggard facilitates is a knockout round, where students play for a certain time limit and can collect points from the number of chess pieces they claim from their opponent.
After the club was founded, Haggard said interest in chess spread quickly.
"It took about a day for the kids to say they were playing chess. And then I filled the list in no time," Haggard said after school on Wednesday. "It was like a forest fire."
For 10 club members, Haggard said the mental aspect of the game led to measurable results.
"Their reading scores just went up," Haggard said. "They have to have that sustained neuro energy. You see them and they thrive just to have a challenge like this with their mind.
Sixth-year student Victoria Llamas, who is one of the club's original members, said the game sharpens players' minds, while fifth-year student Dalia Ortiz said that although complicated, the game develops his mind through practice.
"It's fun because everyone is learning together," Victoria said.
Sixth grader Arvind Bhandal is one of the oldest chess players in Taylor's Chess Club. He has become an avid gamer, practicing his strategies in the morning and at lunchtime after learning the game a year ago.
"Last year I wanted to learn something new and just wanted to join the chess club. I started it and fell in love with it," Arvind said.
It didn't take him long to become one of the most advanced chess players on campus.
"In two days, I learned it. I went home to learn each piece and how it moves, learning all about it," said Arvind, who added that the Queen often plays into her moves because "she can move anywhere."
Fellow sixth-grader Oliver Santiago, who has been with the club for two years, finds chess a relaxing game.
If I rate it 1-10, I'd give it a 10," Oliver said. "It's really fun to play with your family and friends."
Oliver favors the knight for the piece's ability to make an "L" move on the board.
"It's the piece I always start with," he said.
Haggard's classroom is filled with laughter and friendly competition during club gatherings from 2:30 p.m. to 4 p.m., when the focus is on learning, according to Arvind.
"It's not who wins or who loses. In my opinion, it's more about how it helps you," Arvind said. "It's a thinking game – whether you want to take your opponent's piece or sacrifice it – it helps you get smarter and make the right decision."